Alumn knows how to "stay in business"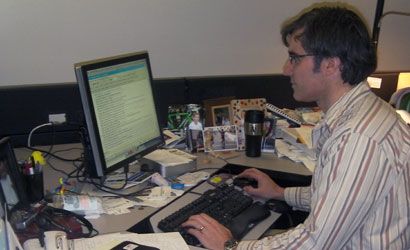 The lingering debate on health care reform has gripped the nation in recent months, and Indianapolis area readers have come to rely on Daniel Lee to provide in-depth insight.
Since 2005, Lee's byline has appeared in the Indianapolis Star business pages, with much of his coverage centered on the nation's evolving health care system. For much of his time at the Star, Lee has also provided commentary on corporate executive salaries and compensation.
The inspiration for the corporate watchdog columns came from his five-year stint at the San Jose Mercury News, where he published a weekly feature that also examined executive business practices.
Lee added to his list of duties last summer when he agreed to host a weekly webcast. But among the slew of different hats Lee wears, it is his work as a part-time columnist that he considers most fulfilling.
"I like the column a lot because you can kind of take ownership of it have a lot more freedom in the way you write," Lee said.
He explained how he has used the forum to raise awareness, call out flaws in the corporate structure and, when necessary, even praise business executives.
It is nothing new for Lee to take on added roles. He initially started on the copy desk in San Jose, but he said he wrote himself into a full-time reporting role by voluntarily taking stories.
"At every paper I try to create my own opportunities," Lee said. "I think you have to take ownership of your career."
Finding his niche
Lee worked throughout the Hoosier state prior to landing on the West coast. After beginning his print career as a Jack-of-all-trades for the Greensburg Daily News, he landed back in his old college town to work for the Muncie Star (later the Star-Press).
"By that point, I was really eager to get into bigger papers," Lee said.
From there, Lee's journey brought him north to Munster where he worked for the Northwest Times of Indiana. It was during his three years in the region that Lee was promoted to assistant business editor, shedding light on a world previously unknown to Lee. Since then, he said he has not looked back.
"I found business reporting very interesting – much more interesting for me than covering local government," Lee said. "It's such an important thing to cover, and since then I've really wanted to stay in business."
Lee found his place in the industry, but the Pittsburgh-area native said he longed to return to the Hoosier state. Much to his satisfaction, an opportunity emerged in 2005 when Lee and his family landed in Indianapolis.
"I love central Indiana, and part of that comes back to the fact that I loved my time at Ball State so much," Lee said. "I just felt like I developed so much as a person in Indiana, and we moved around some when I was a kid so I never had one place I identified as home before coming here."