Ball State opened doors to international work for alum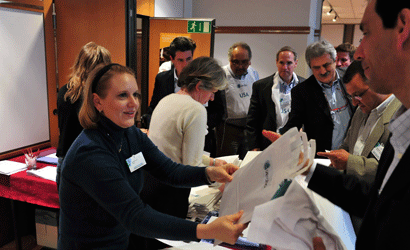 Ball State may have brought Gina Behrman to Muncie but it also helped send her to Paris.
Behrman's currently in her second year on a three year international communication assignment in France for Verallia, part of Saint-Gobain Packaging.
Behrman arrived in Paris in August 2009, but has had little time for sight-seeing. She has worked as part of a two full-time and one intern team to launch a new international brand for her division of its parent company. Its parent company, Saint-Gobain, announced in 2007 the division was "for sale" because it no longer strategically fit.
Behrman and the team in Paris have worked to unify all 13 businesses that are part of the division under one brand name to help promote itself across the world with the name Verallia. Since April, she has been rolling out that brand and is in charge of the new public relations campaign program in the U.S. that includes being in charge of the new internet web-site.
Then in September, Saint-Gobain announced the possible legal reorganization of the packaging her sector with the potential of caring out an IPO, Behrman said.
"When I first came here, I was going to be focused on internal communication, and then wasn't sure this was going to be as exciting as I want it to be," Behrman said."Then the decision was made to launch the new brand and then the announcement about what could develop, so it has been much more exciting than what I anticipated."
The road to Paris originally started when Behrman was in Muncie for her undergraduate degree in journalism – public relations, marketing and mathematics. During her original stint in Muncie, Behrman interned for Saint-Gobain Containers, Inc and upon graduation in 1999 was offered a full-time position in the sales department as a customer service representative.
Behrman left the company for a year to work at First Union Corporation, but returned to Ball State and Saint-Gobain in 2001. She then continued her work in the sales department while getting her master's degree in public relations. After a little time, Behrman started to work in the marketing division and then became the manager of corporate communications.
"That role was the plateau there (in the United States)," Behrman said. "I had that position for about two years and was looking for what my next opportunity could be and was approached about the job in Paris."
While working at a fast-pace at her current job, Behrman's had to adjust to different type of living. Her typical workday begins at 9 a.m. and goes until a lunch break that lasts two hours. From there she returns to work and doesn't quit until about 7 or 8 p.m. When she's home from the office, though, Behrman's officially home.
"Home-life and work-life are still very much separated, unlike the U.S. where it wasn't uncommon to go into the office or work from home on the weekends, but here the weekends are personal time," she said.
When she's home Behrman spends time with her two children, a 7 year old daughter and 5 year old son, and husband, who substitute teaches at international schools.
The opportunity to bring her family over to Paris and continue to expand her professional and personal life all comes back to the small Midwestern town in Indiana, though.
"I really credit the professors and education I received at Ball State," Behrman said. "It gave me a strong foundation for not only my career, but to interact with other professionals through organizations."