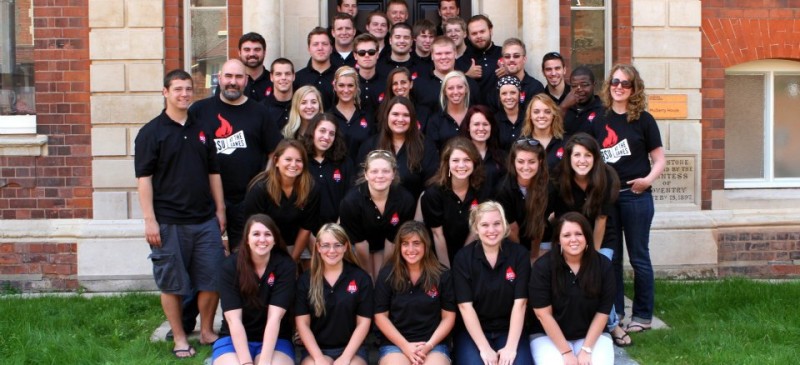 Live from the London Summer Olympics
UPDATE: Check out BSU At the Games coverage online!
This summer, Ball State students are working alongside media professionals from around the world at the 2012 Summer Olympics in London. Not only will these students travel for the single largest international sporting event, but they also will be producing original content for "Ball State at the Games."
This initiative is the brainchild of Professor Ryan Sparrow, who will also serve as the director of the Worcester Center in the U.K. this summer prior to the Olympics. Along with Sparrow, a few other BSU faculty and about 40 journalism and telecommunications students have been working to build a base of content since the Spring 2012 semester.
The students are each a part of a specialized teams within Ball State at the Games, including sports reporters, graphic designers, feature writers, public relations students and photographers. Through collaboration with media outlets across the U.S., including the Tribune Company and WTHR-TV (Indianapolis), the students' work will be published and aired on a variety of platforms.
"I cannot believe the incredible opportunities this trip is giving us as students," said graphics team member Chelsea Kardokus. "We are working closely with the Chicago Tribune and creating graphics that will run not only in the paper, but the iPad and web editions as well."
Sparrow said that as word spread about the project, it continued to expand because he didn't want to turn any students away from the opportunity.
"It's the kind of project that as it grew, it really did hit on almost all of the areas within the Department of Journalism," Sparrow said. "It was a perfect way not only to expose the students to something big and interesting, but it was a way to show prospective students what this new curriculum is all about."
During the spring, students participated in a required immersive learning course that focused on preparation for the trip, creating content before the trip, and developing an audience through social media promotion.
"The idea was to focus on a niche area of journalism and hopefully have a travel aspect. So I took that concept and realized what we really needed was something big and flashy, and we needed that to show our students that journalism is a really cool thing. It gives us really good access, and there are a lot of good stories to tell. And what better way to do that than through the Olympics?"
Then in May, Sparrow, telecommunications professor Chris Taylor and five students attended the 2012 Team USA Media Summit in Dallas, hosted by the United States Olympic Committee (USOC). At the Media Summit, students interviewed more than 100 athletes, networked with media professionals from all over the country and got a taste of what London will be like.
"Everyday this trip becomes more and more real, and I can't believe we are actually getting to go," Kardokus said. "I am so thankful to Ball State for these amazing immersive learning opportunities."