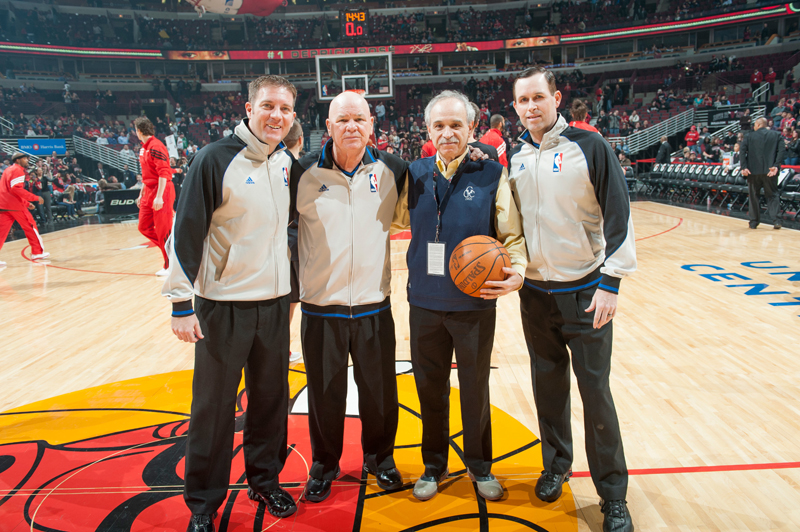 Smith honored by NBA Hall of Fame
1974 Ball State graduate Sam Smith will receive the 2012 Curt Gowdy Media Award this summer at the annual Naismith Basketball Hall of Fame ceremony in Springfield, Mass. The award is the National Basketball Association's (NBA) top media honor.
After earning his BSU graduate degree in 1974, the Brooklyn, N.Y.-native and former accountant spent three decades working courtside at Chicago Bulls games. For 28 years, Smith covered the Chicago Bulls for the Chicago Tribune. He now writes for the Bulls' website.
"Here I have a job that's like a fantasy camp for most adults," Smith said. "I get to go to ballgames all the time and sit in the front row. To have a job that's my own personal fantasy and get honored for doing that job is a fantasy in itself. I consider myself incredibly fortunately lucky that I've been able to do this and get acknowledged for it."
Smith found his way into journalism through his love of sports.
"Like most kids, I wanted to be a pro athlete, but I realized that wasn't going to come to me at my size and ability," Smith said. "I always was in awe of newspapers because they were such a presence in my home and family. There were always five or six newspapers in my home every day, but my thought was that was something out of my league."
After high school, Smith went to Pace University in New York. Though Pace lacked a journalism program, Smith took advantage of the chance to cover sports for the college's weekly newspaper while he completed a business degree. His work received positive reviews from a Columbia University professor who critiqued Pace's newspaper.
Those encouraging words led Smith to Ball State after two years in the accounting business. Smith said he came to Ball State in search of skills he needed to pursue his big-city journalism dreams. He called BSU "the perfect situation for me."
"They took a chance on somebody who had no experience or background [in journalism], but I was able to get involved in so many facets that were a great launch into a career," Smith said. "That was such a valuable year in my life. I really got to do so much, was exposed to so much and experienced so much. I'm forever grateful for the experience I had there at Ball State."
Former faculty Mark Popovich, Ken Atwell and Earl Conn mentored Smith.
"I got a lot from those three guys being able to pump them for their experiences," Smith said. "Those people not only helped me with placement, but they followed my career and helped me. My experience was one of the most influential turning points of my life."
Smith achieved his dream in 1979 when he joined the Chicago Tribune's national and political desk.
"When I was at Ball State, it was a big deal to read the Chicago Tribune about these people, and it was the goal of everybody in the department to work there," Smith said. "I set my goal to do that and didn't know if I'd be able to do this. In the interim, I found something I loved doing along the way."
He switched to the sports desk in 1982 "as a serendipity."
"I never thought it would be a serious enough thing to do with my life," Smith said. "It worked out great. Chicago sports got big at that time — [Michael] Jordan, the [White] Sox in '83 … I was coming into the sports world where the teams were all great."
Those early years in sports coincided with October play from the Cubs and White Sox, a Bears Super Bowl, routine postseason appearances by the Blackhawks and the Bulls's 1984 draft of Michael Jordan.
Smith shadowed Jordan the day the future legend moved to town.
"I ended up doing the Bulls from the day Jordan came," Smith said. "I got hooked on it. It was an extraordinary time because of what the Bulls and he became."
Smith chronicled the Bulls for a behind-the-scenes look during their 1991 season. The notes became "The Jordan Rules," modeled after David Halberstam's tale of the 1979 Portland Trail Blazers.
"Fans get to see the game from the outside looking at the court and read features, but they don't get to know what truly goes on," Smith said. "I thought this would be the opportunity to write behind-the-scenes. I did it, and it was luck. It happened to be the Bulls won the championship that year, and Jordan got into all sorts of issues."
The book made the New York Times's best-seller list as a rare critical look at the life of a basketball legend.
"At the time, Jordan was portrayed as perfect — the perfect son, perfect husband, perfect everything," Smith said. "I sort of lifted the veil off the emperor."
Smith also authored "The Second Coming: The Strange Odyssey of Michael Jordan from Courtside to Home Plate and Back Again" in 1996.
This summer's honors ceremony unites two Chicago legends: Smith and former Bull Chet Walker will both be inducted.
"The basketball hall of fame is low on short, white guys who couldn't dunk, and now I'm in that," Smith said.