Dr. Kuban awarded grant from Arthur W. Page Center
Dr. Adam Kuban, assistant professor of journalism, was awarded a $2,500 grant from the Arthur W. Page Center for Integrity in Public Communication from Penn State University for the creation of teaching modules.  The Page Center awards grants to support scholars and professionals making important contributions to knowledge, practice, or public understanding of ethics and responsibility in public communication or other principles of Arthur W. Page and Robert Wood Johnson.  Arthur Page's guidelines for ethical and effective communication with the public and for responsible corporate behavior have come to be known as "The Page Principles."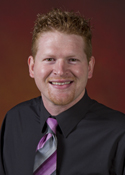 The Page Center seeks to foster a modern understanding and application of the Page Principles by supporting innovative research, educational, or public service projects in a wide variety of academic disciplines and professional fields.  According to the Center, the use of teaching modules in the college classroom encourages active learning by students as they link to both historical and current information through online resources.  Each module includes a set of instructions for guiding students toward clearly articulated learning objectives.
Dr. Kuban taught his module within a five-week, introductory research class.  "As a result, I had to strategically match the objectives of the module with the intended outcomes of the course" says Kuban.  Although this required much thought and preparation on his part, Kuban added, "I'm glad I did it."
Dr. Kuban's modules focused on applying social responsibility theory to media praxis and using it to develop individual ethical codes, in the hope of creating rigorous, responsible journalists.  By using a practical application of theory to personalize the power of the media, Kuban feels that journalism students gain a heightened awareness of the power they possess as media practitioners.  Only by understanding that power in the first place can they appreciate the accountability and responsibility they have in association with Social Responsibility Theory.  Dr. Kuban views this power as lending to students' improved critical thinking, news judgment and justification rationale for their decisions.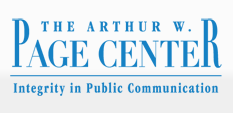 When asked if he was satisfied at the completion of his module, Dr. Kuban stated that he was, but more importantly that he "was quite pleased with his students' ability to connect ethics and Social Responsibility Theory to their budding professional lives."  A perfect example of this came from a student's reflexive paper at the end of the module, in which the student commented on the extensive power each journalist wields by stating, "With each word typed or scribbled, journalists have the power to determine a person's trust."