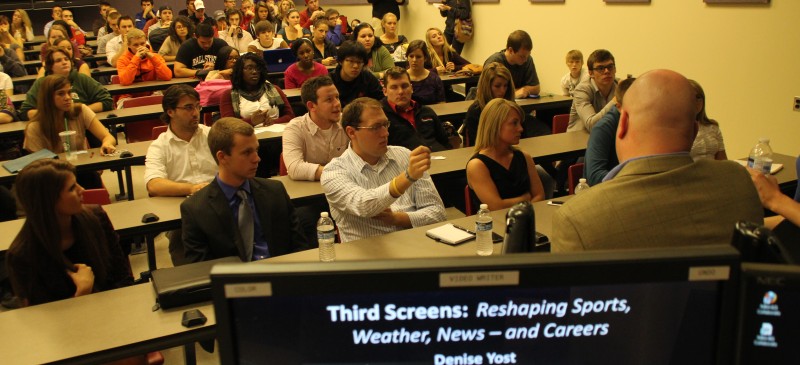 Students engage with professionals at 2012 Fall News Roundup
New media can be found everywhere on a college campus, from a student's hand-held smart phone to tablets being used to present class information. That influence expands well beyond campus limits, as advances in new media are shaping the way news outlets reach their audience. Ball State students had a chance to hear first-hand how new media is impacting Ball State alums in media fields during the latest department PiR, "Third Screens: reshaping sports, weather, news – and careers," as part of the 17th annual Fall News Roundup.
Four Ball State alums – Denise Yost, Brad Byrd, Pamela Gardner, and Chris Taylor – spent an hour Friday afternoon with students telling their individual stories about how their field was impacted by emerging media and its integration to their everyday jobs, while answering questions afterwards.
Yost, the multimedia content manager at NBC 4 in Columbus, Ind., talked about a new tablet application, ConnecTV, that is used to sync a viewer's television and tablet to provide additional information about the television program being watched.
"The industry is evolving into a world where you must treat every platform separately and develop unique content for each screen," Yost said. "As journalists, we have more competition than ever."
Byrd, lead anchor for News 25 in Evansville, discussed his integration of Facebook and social networking into his nightly news broadcasts, frequently engaging viewers through the social networking site during a broadcast.
"What I've discovered is that you have a non-scientific focus group in the palm of your hands," Byrd said. "But we still have a basic responsibility to get it right."
"Its showed me how social media can be good, it can be bad, and it can be downright nasty. The Internet is a wonderful tool, but we have to filter it and make sure we get confirmation. I would rather be second and right than first and wrong."
Gardner, a 2009 graduate and weekend meteorologist for WISH 8 in Indianapolis, talked about how social network sites such as Facebook and Twitter can be used to supplement the weather segments on a nightly news broadcast. It has also provided a useful outlet for viewer suggestions.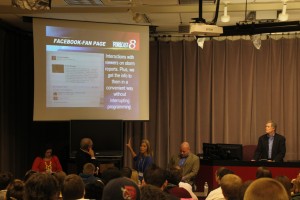 "We update our weather blog several times per shift," Gardner said. "We have taken the feedback into consideration that we are given. We have cut back the amount of time we go on air and interrupt [regularly scheduled programs]."
Taylor, the executive producer of Ball State Sports Link, discussed the program's involvement in last March's NCAA men's basketball tournament and the ways that new media have evolved over the years.
"We [BSU's group] were the social media producers for March Madness. We filtered and monitored over seven million tweets; filtering and creation are an important process."
Rounding things out, Taylor added, "The second and third screen is where you capture the audience.  It is now about what is the best available screen for sports. Business and production decisions are no longer decided by the first screen. It's now about the first available screen – we have to produce and deliver to that screen."