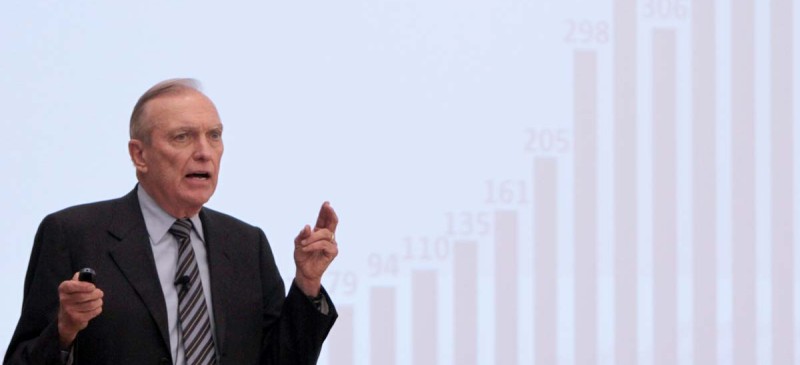 John Graham shares experiences at 2012 Schranz Lecture
On Wednesday, October 17, Ball State University's L.A. Pittenger Student Center served as the setting for the 34th Annual Vernon C. Schranz Distinguished Lecture in Public Relations. Thanks to the generosity of the Schranz family, this lecture has brought many public relations giants to Ball State throughout its history, but arguably none as influential as John Graham, Chairman and former CEO of Fleishman-Hillard.
In Graham's thirty-two years as CEO, Fleishman-Hillard evolved from an eight-person agency in St. Louis, MO to the top public relations agency in the world, with over eighty offices on six continents. Graham's lecture, entitled The Continuing Evolution of Public Relations, addressed the need for Fleishman-Hillard and the industry as a whole to continue to evolve to better address the needs of clients in this rapidly changing world.
In his lecture, Graham reviewed the evolution of Fleishman-Hillard from 1982-2012. He emphasized the agency's "strong tradition of excellence" and their commitment to maintaining a "small company attitude…with large worldwide capabilities." Every Fleishman-Hillard employee receives a plaque featuring the agency's key cultural values, which illustrates the strength of Fleishman-Hillard's commitment to ethical and client-focused work.
Graham also discussed the importance of long-range planning for successful public relations. He attributed much of the success of Fleishman-Hillard, particularly in the international market, to detailed long-range planning.
Graham discussed the changing world, identifying the five major trends in public relations that make evolution necessary to survive. Globalization, convergence, the increasing importance of data and analytics, social media, and the rise of reputation and the decline of branding all spell major changes for the public relations industry.
Practitioners must commit themselves to developing integrated communication solutions and must respond to issues quickly. News travels quickly now. As Graham put it, "It's not a twenty-four hour news cycle anymore; its twenty-four seconds."  However, these trends are very beneficial for students.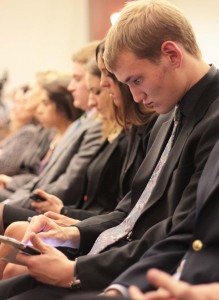 Graham offered great advice for the crowd to make themselves prime candidates for jobs in the industry. He ranked writing as the number one skill that public relations practitioners should possess. As Graham succinctly put it, "Writing shows you know how to communicate and you know how to think."
Graham also expressed his faith in the student population and believes that graduating students will be well prepared to face the challenges of the continuously evolving industry. After receiving such insights from an industry figurehead, Ball State students will certainly be inspired to face the industry head-on.