Students take tips from dynamic duo
The dynamic duo, Donna Fenn and Jake Sasseville, gave Ball State students a look into entrepreneurialism and the millennial generation during the latest David Letterman Distinguished Professional Lecture and Workshop Series.  While Fenn, author of Upstarts! How GenY Entrepreneurs are Rocking the World of Business, provided insight into the ways in which students can be successful entrepreneurs, Sasseville shared his personal struggles involved with becoming an entrepreneur at a young age.  The overall theme, "failure is okay" was prevalent throughout the evening.
Sasseville's career centered on getting the financial backing and sponsors needed to ensure the successful production of his television ideas. But needing more than just financial support, Sasseville was not able to follow through on many of his projects.
"I have never not created something because I didn't have the money to do it," Sasseville said. Fenn then proceeded to reiterate to audience members that money should not get in the way of becoming an entrepreneur.
When asked what could be done to help raise funds for various project ideas, Sasseville told the story of a tour that he created with Kanye West and One Republic in order to raise money for one of his television show ideas. By creating a campaign around his television show proposal before it even aired, Sasseville was able to raise over half a million dollars.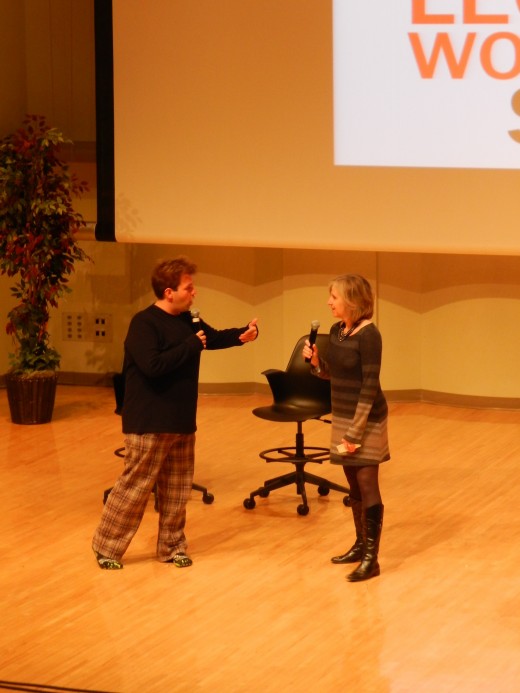 Alternatively, Fenn spoke about the eight characteristics that help to explain why millenials are such successful entrepreneurs.  She cited the fact that for the most part millenials tend to be "extreme collaborators, technology mavens, game changers, market insiders, brand builders, social capitalists, workplace renegades and morph masters."
After explaining each characteristic, Fenn then described the importance of being a collaborator. She focused on a story of a woman who wanted to sell antiques online but wasn't technology efficient or familiar with a lot of digital tools. But instead of giving up on the idea, this particular individual found a partner who could manage the technology aspect of her business while she focused on the products. Their collaboration was a vital aspect to their overall success.
Overall, through Fenn's expertise on entrepreneurship and Sasseville's first-hand struggle with entrepreneurship, this dynamic duo offered a great insight into the rising trend of successful, millennial business owners.