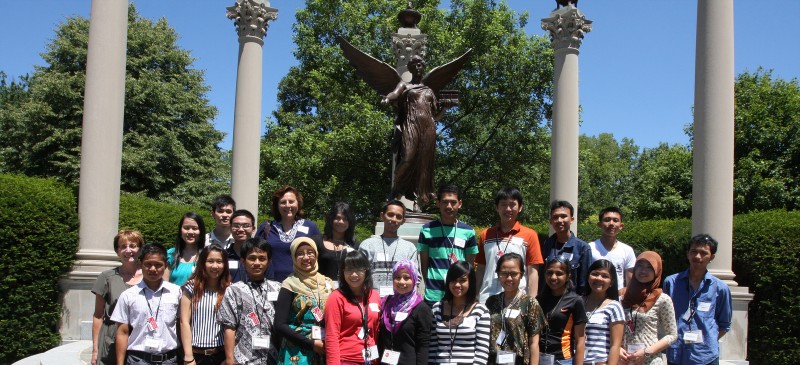 International students develop journalistic skills on campus
Indonesia, Malaysia and the Philippines were just a few of the countries represented on campus this past summer by aspiring young journalists from across the globe.  Although each of these students represented unique cultural backgrounds and were only on campus for a five-week study program, all left with an increased knowledge about new media and journalism while experiencing American culture first-hand.
Mary Spillman, associate professor of journalism and Suzy Smith, assistant professor of telecommunications, co-directed the Study of the U.S. Institute (SUSI) on New Media in Journalism at Ball State University program, which is funded by the U.S. Department of State.  Assisting Spillman and Smith was Sarah England, a graduate student in the public relations program at the university.
Spillman and Smith developed a four-week curriculum, based on news courses in the Departments of Journalism and Telecommunication, U.S. history and government, and leadership.  Ball State faculty, including Spillman and Smith, taught the classes and mentored the students.
"The goal was to prepare student journalists to produce well crafted stories for cross-platform delivery," Spillman said.  "Students additionally developed their leadership skills through in-class workshops and service to the community."
Students learned how to create WordPress sites and interactive graphics, shoot photography, record audio and video, and conduct interviews.  They used the classroom computer labs located in the Art and Journalism Building, Nikon point-and-shoot cameras, and Zoom recorders.
During the program, students heard from guest speakers, including Seth Keever, digital media manager of WRTV-TV in Indianapolis, who explained how social media can inform people of important news in times of crisis, like that of the Indiana State Fair stage collapse.
"It was great to see that thirst for knowledge in the students," England said.  "They loved engaging with and asking great questions from the guest speakers."
Students also heard from Steve Bell, former ABC Good Morning America news anchor, who shared some of his personal experiences in Southeast Asia.
To utilize their skills, students conducted and recorded interviews with local patrons when they and SUSI faculty celebrated Independence Day at the Minnetrista Cultural Center in Muncie, Ind.
"It was wonderful to see how quickly students picked up on the skills they learned in the classroom," Spillman said. "It seemed that some skills just came as second-nature to them."
During trips to Indianapolis, the SUSI group visited WISH-TV and was given the chance to view a live news segment from behind-the-scenes and tour the studios.  Spillman and Smith also took students to the Indiana State House and Conner Prairie.
Other highlights from the SUSI program included a home stay weekend with local families to experience American culture, participation in weekly community service at Habitat for Humanity and Second Harvest Food Bank, and a weekend trip to Lexington, Ky. to visit the Kentucky Horse Park and Churchill Downs.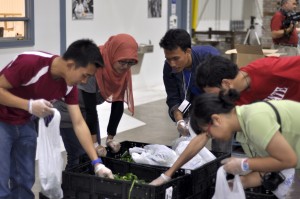 "The students were enthusiastic workers at both Habitat for Humanity and Second Harvest," Spillman said. "They enjoyed making a difference in the community and learning more about how volunteerism can be an important part of creating a better life for those around them."
The SUSI group concluded the program with an eight-day educational study tour of Gettysburg, New York City and Washington, D.C.  Students took every opportunity to use their photography, production and journalism skills while visiting places like Times Square, the United Nations, Voice of America and the U.S. Capitol.
"The SUSI participants were enthusiastic students and leaders in their own countries," Spillman said. "I am confident they will contribute significantly to their communities in Southeast Asia and be great ambassadors for Ball State."
The multimedia and journalism skills that students learned during their stay have already been used in their education, careers, and various other opportunities. Filipino student Anthony Esguerra is utilizing his journalism skills to work on a news program project. Both Malaysian student Ming Wei Pang and Indonesian student Dikara Alkarisya have contributed to articles in newspapers in their home countries.
SUSI is slowly on its way to becoming an integral part of the Ball State community.  Spillman and Smith have hosted the program for the past two summers, and are looking to make it a third.
"We are hoping to receive word soon that we will be hosting again this summer," Spillman added. "It is truly a once and lifetime experience for both faculty and students."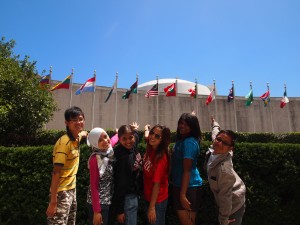 By utilizing social media, students have been able to constantly update each other and faculty on new opportunities and how they have used the skills they learned at Ball State.  Whether or not the students enter a field of new media or journalism, they will always retain the skills, experiences and deep relationships gained from the SUSI program at Ball State.
"The SUSI experience is incredibly rewarding – professionally and personally – for both students and faculty," Spillman said. "We continue to remain in touch with all the students who came in 2012, and hope to see them again in the future."