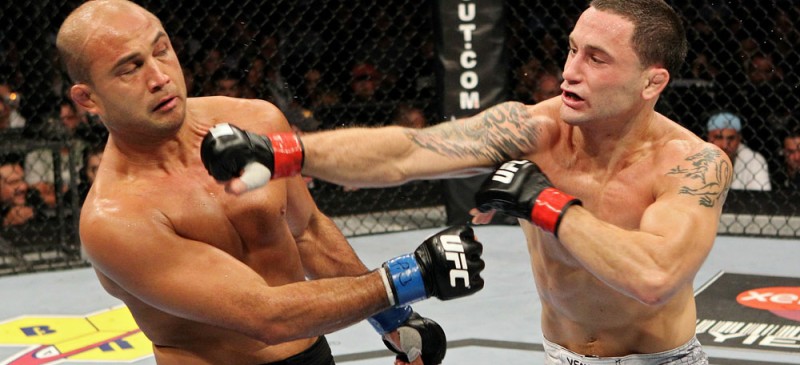 Alumna puts skills to use at UFC
When Rachel Greene graduated from the journalism graphics sequence in 2005, terms like "striking," "grappling" and "ground fighting" weren't exactly part of the designer's vocabulary. But as the creative operations manager for the Ultimate Fighting Championship (UFC) in Las Vegas, understanding UFC lingo is just all in a day's work.
Although Greene's latest endeavor represents the culmination of hard work and skill, she expressed an appreciation for her Ball State experience, including a Department of Journalism faculty Greene described as "second-to-none."
Greene is a former editor-in-chief of the Ball State Daily News and participated in two internships before graduating. The first was with the St. Petersburg Times as a features design intern, and the second was in a similar capacity at The Plain Dealer in Cleveland.
"Ball State just provided so many opportunities for students to gain real-life work skills," Greene said. "While both of my internships were beneficial in preparing me for a career in media design, the journalism department did an excellent job at teaching students how to sell one's self to potential employers and the importance of networking."
Greene said the department's faculty had a lasting influence on her career path. In particular, she recognized Jennifer Palilonis, George & Frances Ball Distinguished Professor of Multimedia, as not just a former mentor and instructor, but as a friend as well.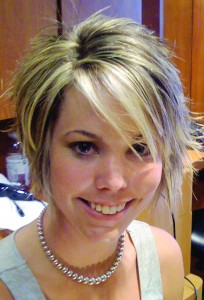 "Professor Palilonis taught me many of the design skills I know, but also taught journalistic integrity and the importance of knowing that content always drives design," Greene said. "This has remained true in each of my jobs, whether it was related to designing a series about healthcare or a fight poster."
Palilonis says there's a reason she and Greene have become such great friends since she graduated.
"I am so proud of all that Rachel has accomplished," Palilonis said. "It's rare for someone so young to rise through the ranks of a newsroom as quickly as she did. But I wasn't the slightest bit surprised. She is one of the most ambitious, talented, passionate students I have ever known. The fact that we get to call her a Ball State grad is truly something to value with pride."
Greene put these valuable skills to use upon graduating as a graphics designer for the Las Vegas Sun, which is a small, family-owned newspaper in a unique joint operating agreement with the Las Vegas Review-Journal.  The Sun inserts inside the Review-Journal as a 10 page, ad-free newspaper.
"Because of this unique set-up, we had the opportunity and space to do a lot of innovative work, including winning the 2009 Pulitzer Prize for Public Service," Greene said.
In the same year, Greene was promoted to creative director of Greenspun Media Group, which is primarily responsible for handling the daily Las Vegas Sun and the weekly business publication VEGAS INC, which she lead in a redesign campaign.

As creative director, Greene was also the lead designer of the 50-page 2010 Pulitzer Prize investigative series, "Do No Harm: Hospital Care in Las Vegas."  The series won two Society for News Design Awards of Excellence in the categories of Special News Topics and Special Coverage of a Single Subject.
Greene left the Greenspun Media Group in October 2011 to begin working for UFC as a graphic designer.
"In many ways there are similarities to UFC and the media in general," Greene said. "We might not have breaking news, but injuries and sudden card changes have the same 'rip-it-up-on-deadline' attributes as in most media outlets. We also have deadlines to meet daily."
As creative operations manager, Greene is responsible for designing marketing kits, newspaper and magazine advertisements, event programs, apparel catalogs, and other print marketing assets for UFC, including Strikeforce and materials for The Ultimate Fighter reality television show. She also is a copy editor for a variety of print- and web-based materials while handling the day-to-day operations of UFC's creative department. This includes coordinating with local and international printers, translating documents and managing the daily workflow and calendars of five designers.
"Basically, my goal is to do whatever I can to promote pay-per-view sales and to protect and grow the UFC brand," Greene said. "The most rewarding aspect of my position is when I see work I have done in high profile locations, like seeing fans waving a program I designed on television or billboards on highways. It is great to know that when an event is a success that I had something to do with it."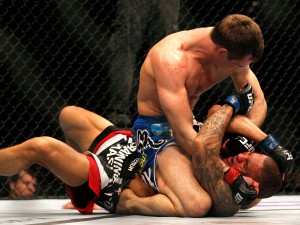 For Greene, the future looks even brighter than the present.
"I really like being someone who produces something tangible," Greene said. "In my spare time now, I also run a boutique wedding invitation studio called Sky Orange Studio – quite the contrast from the fight business! Ultimately, I love to create and make things or play a part in producing a truly special idea."
Greene added some sage advice for current undergraduate students looking to pursue a career trajectory similar to hers.
"Being involved in student media is key," she said. "Without that, it is harder to get a good internship, and without an internship, it's harder to get a job."
Greene also encouraged students to maintain an open mind throughout their undergraduate studies.
"I went to college thinking I would work in newspapers forever, which is not what happened," she said. "However, the skills I gained as a journalist make me valuable in a marketing position where marrying words and images is just as key."