Meet the Journalism Alumni Society: Michael Holmes
Educational Background:
PhD     Speech Communication , University of Minnesota, 1991
MS       Speech Communication, Southern Illinois University-Carbondale, 1986
BA       Speech Communication, Southwestern Minnesota State University, 1985
Professional Experience:
Michael Holmes began his academic career in 1990 as a faculty member of Purdue University.  He joined the communication department of the University of Utah in 1992 and was tenured and promoted there in 1999.  He left Utah to become Chairperson of Communication Studies at Ball State in 2001.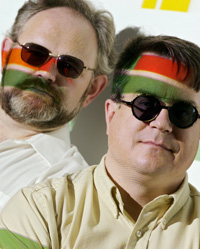 At Ball State, he has also served as Interim Dean of the College of Communication, Information and Media, Director of Insight & Research for the Center for Media Design, and Interim Director of Graduate Studies for the department of Telecommunications.  He became Professor and Chairperson of Journalism in July 2013.
Creative/Publication Career Highlights:
Holmes has published over 20 scholarly articles and book chapters including publications in Management Science, Human Communication Research, Health Communication, Communication Studies, Social Indicators Research, Behavior Research Methods and The Police Chief.  He is a coauthor of Organizational Change and Innovation Processes: Theory and Methods for Research (Oxford University Press), winner of the National Communication Association Organizational Communication Division Best Book Award for 2000-2001.
He has designed and managed nearly 35,000 hours of field-based observational research on consumer exposure to media.  This work includes the landmark Video Consumer Mapping Study for the Nielsen-funded Council for Research Excellence.  In 2009, the Eastern Communication Association named him a Centennial Scholar of Communication.