Palilonis wins national journalism educator award
Jennifer Palilonis, associate professor of journalism at the College of Communication, Information, and Media at Ball State University, was named the national journalism teacher of the year. Palilonis, a George and Frances Ball Distinguished Professor of Multimedia Journalism, received the Charles E. Scripps Award.
"I was absolutely ecstatic when I found out I had won," Palilonis said. "To be recognized nationally in this fashion is an incredible honor, and I am just overwhelmed by it. I am so thankful to Scripps Howard for this award, as well as to my colleagues Brad King and Dan Waechter for nominating me."
The annual Scripps Howard Foundation National Journalism Awards competition honors excellence in journalism education and administration. Palilonis was recognized during the keynote ceremony of the Association for Education in Journalism and Mass Communication (AEJMC) national convention in Washington, D.C. in August, and received a $10,000 cash prize and trophy. She also gave a special presentation during the conference as Teacher of the Year.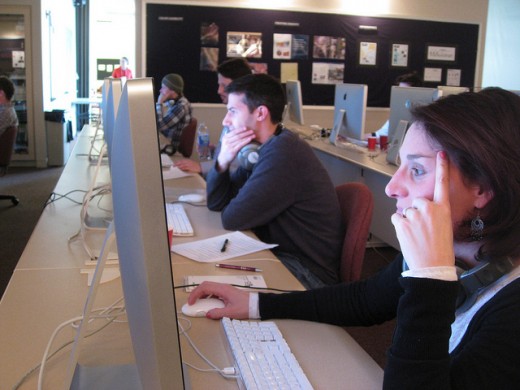 In order to be considered for the award, faculty members had to be nominated by a department chair that could provide specific examples of a nominee's merit. Nominees who taught in any discipline of journalism or mass communication were invited to apply, and were judged on their commitment to the improvement of student learning.
As an instructor, Palilonis has broken numerous barriers. In addition to her duties as a faculty member, she has served as a co-teacher for Transmedia Indiana, an immersive partnership with the Indiana State Museum that brought 30 students together across two semesters to create a narrative tale that included websites, tablet-based publications, and live events that supported the story. She also continues to manage 15 students who are working with over 200 elementary-age students at Burris Laboratory School to create multimedia books incorporating the work of these schoolchildren.
Palilonis' influence has extended beyond the classroom to the curriculum at Ball State. She has developed two new courses for the Digital Media Minor and three new courses for the revised M.A. in Journalism. Palilonis is also the Education Director for the Society of News Design, an organization with more than 1,500 members across the globe.
"It is difficult to express how much Jenn does for our students, our department, our college, and our university," said Dan Waechter, past interim chair of the department of journalism. "While Jenn has been an integral part of the department for the past 11 years, her work the past 12 months has been exemplary."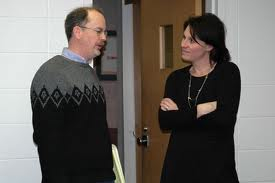 Palilonis has taught at Ball State since 2001, instructing courses in multimedia storytelling, information graphics, and media convergence. Before becoming a member of the faculty, she worked as a news designer and art director for the Detroit Free-Press and as a graphic design instructor at Wayne State University and the International Academy for Merchandising and Design. She is currently working on her doctorate in informatics at Indiana University, IUPUI Campus.
"This is not the first time Scripps Howard has supported me," Palilonis said. "As a senior in college, I received a scholarship from Scripps that paid for my full tuition that year. So, I have long been very thankful for the ways in which the Scripps Howard Foundation supports journalism education."
Palilonis' honor is the second national Charles E. Scripps Award to be won by a Ball State faculty member in the past five years. The other previous award winner was Marilyn Weaver in 2008 for College Administrator of the Year.