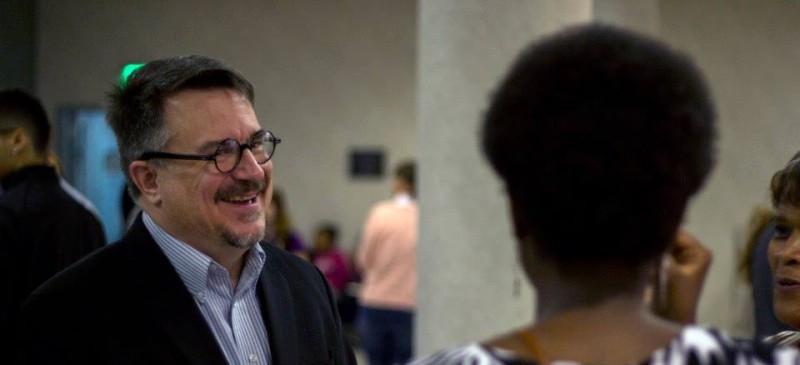 Holmes at the helm of the Journalism Department
Professor, researcher and interim dean are just a few of the titles held by Michael Holmes during his 13 year tenure at Ball State.  But as the current academic school year commenced, Holmes added one more designation to the list: Chairperson of the Department of Journalism.
Holmes' educational background is as extensive as his experience.  He holds his doctorate in speech communication from the University of Minnesota, along with a master's degree from Southern Illinois University and a bachelor's degree from Southwestern Minnesota State University in the same subject.  Prior to arriving in Muncie, Ind., in 2001, Holmes joined the communication department of the University of Utah in 1992 and became tenured there in 1999.
At Ball State, he has served as Chairperson of Communication Studies, Interim Dean of the College of Communication, Information and Media, Director of Insight and Research for the Center for Media Design and Interim Director of Graduate Studies for the Department of Telecommunications.
Both Holmes' education and professional experience led him to his current position within the journalism department.  And he has already given serious consideration to what he hopes to accomplish as chair.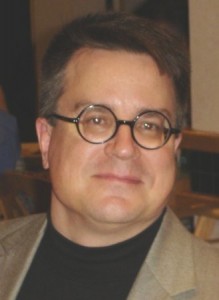 "It is important for a chair to identify, refine and change the department's goals," said Holmes.  "It is not a place to come in and impose a new vision, but to contribute to the one the department already has."
Holmes hopes to apply his thirteen years of experience in various roles within the college to maintaining existing successful endeavors within the department, but realize when changes need to be considered.
"It is my job to recognize when there are opportunities to do new things and to help the faculty adapt," he said.  "I do not have an agenda, but rather a goal of helping the department evolve, adapt and grow."
In addition to his familiarity with Ball State, Holmes stood out as a candidate for a variety of other reasons.
"It is a job that is getting incredibly difficult because of the expectations, yet he was very careful to understand how the department functions and is very familiar with Ball State's administration structure," said Dan Waechter, assistant chairperson and professor of journalism.  "There are not many things that can be thrown at him that he has not already worked with."
Waechter pointed to Holmes' past research interests as another reason why his candidacy stood out among other candidates.
"He is a media generalist, which is a benefit because he has an understanding of all the disciplines in the department, without being biased toward one," Waechter added.
"I think part of the strength I bring to the department is my wide range of perspective as a researcher and administrator," Holmes said.  "Being media generalized and concerned with changes overall allows me to have a different perspective."
Waechter agrees, and thinks the department can expect something unique from Holmes as chair.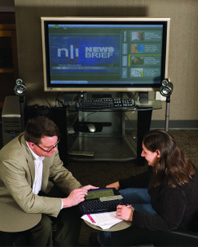 "The things you desire in a department chair are a track record of leadership, the potential to serve successfully in a department as diverse as ours, a candidate who understands challenges and allows department innovations where necessary, and is sensitive to fundraising goals," Waechter said.  "While these are all difficult things by themselves, he (Holmes) showed potential in all of these areas."
Past chairs of the department include Marilyn Weaver, Jim Willis and Dan Waechter as interim.  Now, Holmes adds his name to this list of distinguished scholars.
"Even though we have gone through a lot of chairs in a short amount of time, this has been a smooth transition so far, and Michael clearly has the best interest of the department in his mind with every decision he makes," Waechter said.  "That is exactly the kind of person you want leading the department."
"This department is unusual in a number of ways, including its size, the amount of students and faculty, the diversity of perspectives and wide skill set in the department, and the complex infrastructure with most classroom setups," Holmes said.  "That is why we have so many successes, but also challenges."
Although Holmes says he lives for his work, he also has a life outside of the university.  He cares for two special needs cats, builds computers, enjoys books about history and restores two spitfire convertibles.