Behind the seams of Burberry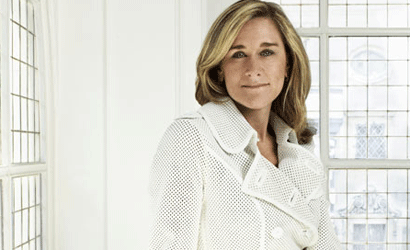 It is safe to say that Ahrendts has come a long way since her days as a cardinal. Moving from Muncie to London and from student to CEO, she has never stopped chasing her dreams, which led her to become the leader of the well-known, respected and 155 year old brand of Burberry.
With the extreme changes in technology over the last century, Burberry has focused on maintaining and enforcing its reliable and luxury brand while also adapting to its surroundings. The web holds the top spot as the most effective form of media and 1.2 billion smart phones remain within 10 inches of their owners at all times. While some companies take advantage of more convenient online shopping, that is last on Burberry's list of perks from digital media. Ahrendts discussed her four most important reasons to understand and employ digital media, using the recently launched "Burberry World" to demonstrate her points.
Fully communicate story of brand
Burberry is more than just a coat. Although the trench coat is the company's core product, it also packs the brand's identity into one garment or one image. Consumer dedication goes beyond the brand's physical aspects. Psychological attributes play just as big of a role, if not bigger. People see more than a coat—they see luxury, dependability, quality and style all within a trench coat. Burberry assures that this occurs through enhancing its brand's narrative. Burberry World provides clarity and consistency about the heritage, foundation and culture. Everyone who visits the site learns the same information about the company's history and receives the same messages. The sights and sounds provide a multisensory experience strengthening the consumers' involvement and interactions.
Extends reach
The use of digital media and the introduction of Burberry World serve as ways to recruit new types of customers, including the digital native generation, which are those who have been raised in a world filled with technology. Not only does digital media provide total access to the brand and its culture, but consumers can choose to interact with it anytime and anywhere. This strengthens the brand's culture both within and outside of the company by enforcing the Burberry's foundation and messages to employees and consumers. Today more than 7,000 employees in forty-two countries work for Burberry. Burberry World allows each of these to receive the same information without spending an obscene amount of money.
Gain further insight
Customers unknowingly display their true desires when visiting Burberry World. The site provides a way to learn about the preferences, interests and purchasing patterns of various types of consumers. Not only does it help Burberry attract more clients, but it also allows the company to better meet their clients' needs and improve their experiences with the brand.
Consumers prefer it
Clearly, consumers often benefit from a company's use of digital media. Therefore, it is not surprising that they tend to prefer it. The convenience it offers produces a better shopping experience. Whether using a laptop, desktop, iPad or mobile phone and no matter where or when the customers wish to learn more about the company or catch up on its latest fashions, Burberry World is open for business.
After her lecture Ahrendts expressed that digital media is not the sole means for acquiring devotees and that Burberry tries to dedicate 50 percent of their marketing to other mediums as well, such as traditional magazine ads. She emphasized that consumers have to feel great about the brand and the company, which requires more than the use of digital media. Companies must demonstrate their integrity and ethics to really assure that consumers want to interact with their brands.
Along with her discussion on digital media, Ahrendts also provided advice and inspiration to her audience. "Know who you are," she said. "That will help you know what you want to do. Follow the path that gets you there." By remembering that life is a chess game and that she is responsible for moving herself, Ahrendts was able to jump on an opportunity right after college and make her way into the fashion industry, achieving her long time dream.
Audience members actively listened to Ahrendts' advice, which was realistic and hopeful. Her lecture provided a variety of information for students within differing majors. Although it appears that her creativity played a huge role in her success, Ahrendts argued otherwise. "It's not innovation," she stated. "Be present. See the world. Feel and act on opportunities. See what's coming around the corner before others."
Along with this advice she also suggested, "A trench coat is a great graduation gift."