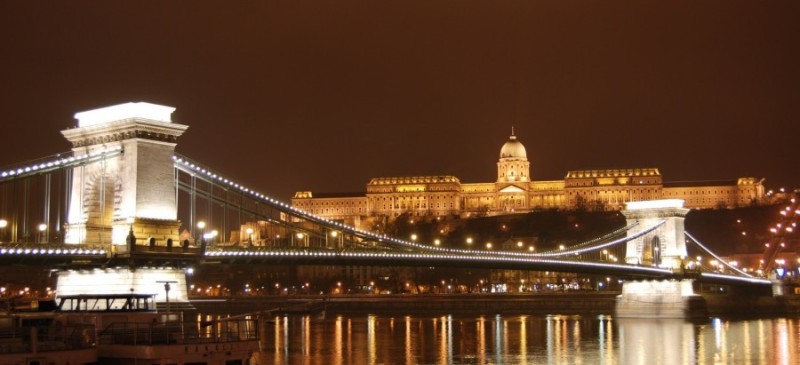 Hungary immersion teaches political, cultural lessons
As thousands of Ball State students flocked to any warm coast they could find this past spring break, six students along with Sheryl Swingley, internship coordinator and instructor of journalism, bundled up and headed to Eastern Europe for a week in Budapest, Hungary. While not exactly the usual location for college students over spring break, Budapest and its surroundings offered students an increased understanding of a culture hidden to most, and the unique opportunity to develop journalistic skills in a foreign setting.
Although Swingley is no stranger to the locale, it was the first international adventure for most of her students. It also marked the third time in four years that Swingley traveled to Hungary for an immersive learning trip, with the past two visits including students from her upper-level news course. Joining her on this most recent trip were Natalie Wagner, Jake Johnson, Logan Buesching, Jena Levy, Erin Clark and Brian Hickman.
For students in a new location with an unfamiliar culture, the trip was an opportunity to gain professional experience in a challenging environment. It was an experience that Swingley characterized as a "success."
"I was really pleased with what the students produced," Swingley said. "They were dealing with difficult topics, specifically related to government and politics in a place they did not completely understand."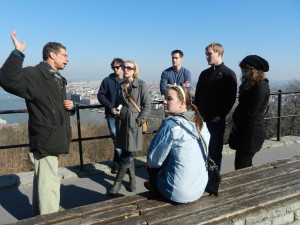 The students, tasked with producing original content throughout the trip, covered a range of cultural and political topics. Two topics that became central themes for the group were sustainable water and the modern political identity of Hungary.
Organica Water, a company that specializes in sustainable, recyclable water processes, became a sort of unofficial partner to the group, providing access to their facilities and operations. Meanwhile, the students found themselves in a country that was still developing a collective political identity, having only established independence decades earlier.
Swingley noted that while water and government may not be parallel concepts, they are not as far apart as they first appear.
"Both were really good topics for students to cover," Swingley said. "If you dig deep enough into water, it becomes a deeply political issue."
For most of the group, this was their first trip abroad, while for others like senior Natalie Wagner it was one of many international trips in her life. But, it was a unique experience all the same.
Weighing the options of immersive travel opportunities to pursue last spring, Wagner settled on Hungary because of its differences, choosing the Hungarian trip over other just as exciting locations to visit like London.
"I love to travel and I had already been to Europe before, but I had never been as far East as Hungary," Wagner said. "I knew nothing about the country, but I was interested in the fact that it was a small group of students and as a result there would be more story opportunities to cover for everyone involved. All in all, it was Hungary's unknown qualities that appealed to me."
Wagner and her classmates found themselves among welcoming hosts and a once-in-a-lifetime learning experience upon arriving.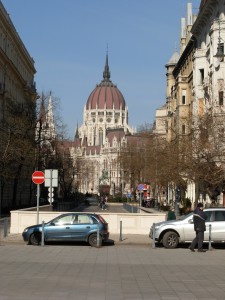 "For the most part, everyone we encountered, from our tour guides to our drivers were really accommodating and appreciative of us," Wagner said. "We fit in pretty well."
"Talking with people, I gained a whole new respect for their history and identity," Wagner added.  "Hungary is usually not a country most people think of when visiting Europe, but it offers an experience unlike any other to visitors."
When the students were not covering the Hungarian political climate or the status of sustainable water, they were able to experience the uniqueness of Hungarian nightlife, and the phenomenon of "ruin pubs."
A style of bar or nightclub, ruin pubs are a Budapest specialty of repurposing dilapidated buildings and furniture. Jana Levy was ultimately tasked with covering ruin pubs, and after discovering that Szimpla, a club in Budapest, was one of the most popular in all of Europe, the group decided to pay the establishment a visit.
What they found was a brilliant array of lights and music in what had formerly been an apartment building.
"Ruin pubs were unlike anything I had ever experienced before in my life," said Levy. "It totally changed the way I look at run-down buildings and their potential for future use.  Who knew that such structures could be turned into intrinsic pieces of Hungarian nightlife?"
"It was a good atmosphere," Wagner said. "I have never been to a place like that anywhere. There is definitely an interesting nightlife in Budapest. You would not see that in a city in America; it was so strange, but cool and interesting at the same time."
Swingley and the group also visited some of the country's historical sites and more traditionally tourist-friendly locations. But it was in the deviations from their itinerary where some of the best discoveries were made.
For instance, when looking for a particular restaurant in downtown Budapest, they found instead a local hotspot.
"We came across this mom-and-pop shop that was just a hole-in-the-wall place," Swingley said. "And it turns out to be the place to go in Budapest. It has pictures hanging on the walls of all the legendary figures from Hungary and is loaded with history."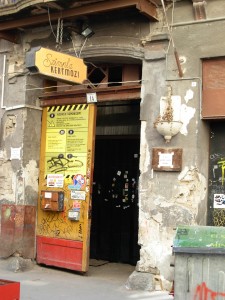 "Those are the kinds of places that we wanted to search out. We wanted to find out the places that the locales went to for some of those hidden gems not noticeable to the average tourist."
Swingley noted that while busy schedules and language barriers might have been difficult to overcome at times for students, she hoped that all students left with a host of new skills than before the trip.
"I think it is safe to say the students that participated walked away from the trip a better journalist," Swingley added. "Practicing skills developed in the classroom in the real world, especially in a location like Budapest, gives students the necessary environment to broaden their craft and in the process gain real-life experience."
"I am pleased with their work, and I am excited to take another group of students in the future," she concluded. "My hope is that this trip was more than just an experience of traveling abroad, but an eye-opener to students about the possibility for using their skills."
For more information about Prof. Swingley's proposed 2014 immersive learning trip to Budapest with a focus on travel writing, please contact her at sswingley@bsu.edu or visit http://bsubudapest.wix.com/2012.